I was born in Verona, Italy and trained at the New Zealand School of Dance and English National Ballet School. I lived in Hobbit Town (Wellington – NZ) for 7 years, where I had the pleasure to perform with the Royal New Zealand Ballet for Hobbits, Elves and Gandalf the Grey himself!
Have I introduced you to Iacopo yet?
He's my Lazy Dancer Studio co-founder and partner in life and love. Lucky me!
Iacopo's a visual storyteller (ask him about what it's like to fly in spaceships). With his background in photography and VFX, he takes care of all the technical aspects of the Lazy Dancer Studio from filming and editing videos at exactly the right angles to gorgeous photography. When you watch his top-knotch Lazy Dancer videos from your living room or office, you won't be able to help yourself - you'll start moving right away.
That's right. You'll dance. And then, you'll feel good about yourself and your body.
I believe that anyone, at anytime, can start ballet in a friendly, welcoming environment - like what you find at the Lazy Dancer Studio.
Ballet teaches you so much more than how to do a graceful arabesque - although who doesn't want to be able to do a graceful arabesque?
Ballet teaches you how to set and reach your goals so that you get the most out of your life.
Getting the most out of life is why Iacopo and I started our online Lazy Dancer Studio.
We struggled to rent a studio space in London so that I could teach ballet my way - in a warm, big-Italian-family-like environment for ballet dancers of all ages and abilities. We were frustrated and disappointed at how difficult it was to find an affordable and attractive space. We talked about buying a studio (ouch!) and Iacopo said, you're nuts.
And he was right. We were nuts.
Nuts about sharing our happy, friendly dance method to the world.
Nuts to not give up.
Nuts to take our studio online instead.
And now this corner of our living room is our very own dance studio, as well as yours.
Are you nuts enough to join our online ballet studio and dance wherever you please?
Join the Lazy Dancer Family.
Let's introduce the rest of the Team
Ana Stout - Writer & Copy Editor
Hello, I'm Ana!

I live in Denver, CO with my family and our faithful companion Muppy.
I grew up in Louisiana, and started acting when I was just four years old.
I left home when I was fifteen, and set off to pursue a variety of experiences through creative and liberal arts. Writing and performing have always been my greatest passions.

Today I am a freelance writer and copy editor, as well as dedicated ballet student and voice actor.
P.S. The cats want an introduction too.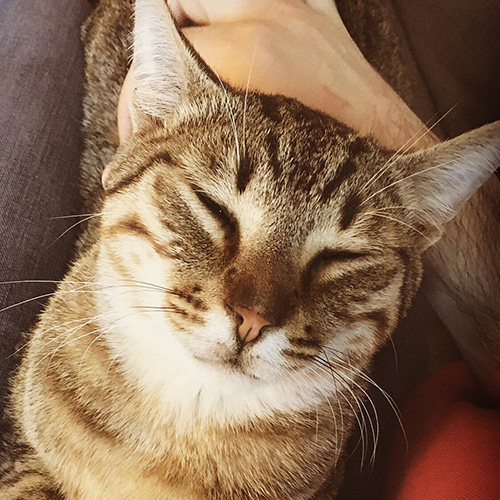 I'm from Greece. Evina, from CatCuddles rescued me. (Thank you, Evina!) I found the best home! Iacopo and Alessia are lovely. But, Margot is still sad about Lupin leaving us. My job is to cheer her up and play with her. It's a tough task but I'm up to the challenge :3
I'm the queen of the show but I mind my own business. I like to supervise from the other room. Or sleep. Or gracefully rub against things that need some fur. Wait! Is that food? Thanks Celia for rescuing me and finding me such a lovely family.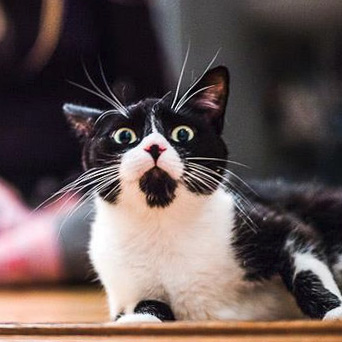 Our dear Lupin has left us. He was the main star of the show, often in the frame. He was scared of his own tail but he loved belly rubs. Thanks Celia for rescuing him and letting him join our family. You're always in our hearts, Lupin.